Tailor-made Zimbabwe Safaris
Day 1
-

Harare

-

Somalisa Camp

This morning you will meet your private charter pilot at Harare International airport, who will assist you to your light aircraft and prepare you for take off. You will fly* on to Manga airstrip (2hrs 15min) in Hwange, where you will be met by African Bush Camps staff who will welcome you to Somalisa Camp. Somalisa Camp is set on its own concession, deep in the Hwange National Park on the Kennedy Vlei line, famed for its wildlife and rolling savannah plains. The camp consists of elegantly furnished canvas tents with en-suite bathrooms and outdoor showers. There is a main area, where guests meet for meals and drinks, which overlooks a pan where game drifts in to drink at all times of the day.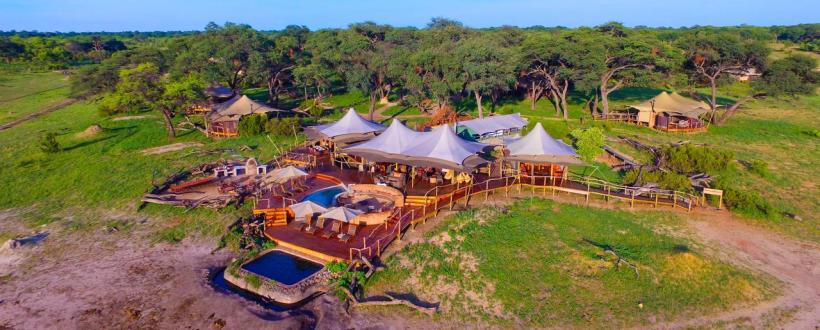 There is also a small swimming pool to relax by in the heat of the day. Activities include guided walks lead by qualified and passionate guides who will share their knowledge and love of the bush with you; game drives and spots lighting as well as game viewing from hides.
Walking and game drives will allow you the opportunity to observe elephant, kudu and sable antelope, zebra, wildebeest, gemsbok, the rare and endangered roan antelope, buffalo, giraffe, white rhino, lion, leopard, hyena, and many other wildlife species.
The Kennedy vlei is littered with flamboyant colours from all its seasonal wild flowers that emerge as the first rains begin, and as the grass dries out, the large herds of buffalo, zebra and elephant are in abundance.

Day 2 & 3
-

Somalisa Tented Camp - Hwange

In the mid 1800s the land, which is now Zimbabwe's flagship conservation area, was a royal hunting reserve for the great Matabele warrior-king Mzilikazi and his successor Lobengula. Their hunting had little impact on the teeming herds that inhabited this vast area of sand and scrub.
Then came the settlers, with rifles and an insatiable greed for hunting - and the slaughter began. The game was also wiped out by the rinderpest epidemic of the late 19th century. Only a denuded wasteland remained. It was only in the 1920's, after an eccentric cattle rancher converted his property into a wildlife reserve, that the colonial authorities noticed the areas potential, embarking then on an enormous bore-hole-drilling campaign to combat drought and lure game back into the area. By 1949, the 14,600km2 area was formally declared a National Park.

Nowadays, Hwange National Park boasts 107 different mammals, a bird list of 401, up to 260 types of trees and shrubs and 1100 plant species. All Zimbabwe's specially protected animals are to be found in Hwange and it is the only protected area where gemsbok and brown hyena occur in reasonable numbers. The population of wild dog to be found in Hwange is thought to be of one of the largest surviving groups in Africa today. The park is situated on the main road between Bulawayo and the world famous Victoria Falls. Overnight Somalisa Tented Camp - Terms: all-inclusive: accommodation, meals, drinks, two game activities per day, laundry, transfers from airstrip. Excludes PREMIUM brand spirits and champagne & National Parks fees

Day 4
-

Hwange to Mana Pools

This morning after breakfast you will say farewell to the Somalisa staff and transfer to the airstrip for onward flight* to Mana Pools airstrip. This flight is about 2 hours. Here you will be met and transferred into camp where you will meet the infamous Stretch Ferreria.

Stretch is a knowledgeable professional guide who will walk and drive you through the unique scenery of Mana Pools and possibly canoe you down the timeless Zambezi River. It is an experience like no other where there is a kaleidoscopic variety of animals and birds and a magnificent diversity of endemic trees. The wildlife is prolific and with Stretch you will be in a position to get some of the most amazing photographic shots, as he is renowned for his close relationships and interaction with individual animals within the park. Here you will be treated to unparalleled luxury amongst the towering trees on the banks of the Zambezi River. Your meals will be eaten under the stars and you will sleep safely amid the wild and sometimes secretive creatures you may otherwise never see. Home is in a specially designed twin bedded tent nestled amongst a grove of Albida and Mahogany trees.

Day 5 & 6
-

Mana Pools

Experience and explore the Mana Pools National Park, situated on the southern bank of the Zambezi River which makes the border between Zambia and Zimbabwe. This park is without doubt one of the finest game reserves on the sub-continent. It covers more than 280 000 hectares between the Zambezi River and the Zambezi escarpment further south, and is part of a wild area, which stretches from Kariba in the west to Kanyemba on the Mozambique border in the east. Along the banks of the mighty river, and around the four large pools which give the area its name, huge trees such as Natal Mahoganies, Apple-Ring Trees, Sausage Trees and Tamarinds, provide not only shade but food and shelter for the many animals and birds which inhabit this tract. Four of the Big Five (all except Black Rhino), can be found in Mana Pools, as well as a plethora of other game. Not only is game viewing exceptional in Mana Pools, but the scenery is astounding. There are very few places on earth as wild as this incredibly special National Park. Overnight Goliath Safaris - all inclusive including accommodation, meals, drinks, activities and National Parks fees

Day 7
-

Mana Pools

-

Matusadona National Park

This morning at a confirmed time you will be taken back to Mana airstrip where you will once again meet up with your private pilot who will fly* you just 30 minutes to your last stop Changa Safari Camp. Your flight will land at Fothergill air - strip and you will then be met and transferred into camp.


CHANGA SAFARI CAMP is situated in a private concession area within the Matusadona National Park in Kariba. The camp offers luxury-tented accommodation, game viewing by boat and vehicle, game walks, birding safaris, fishing safaris and similar activities within the Matusadona National Park. The luxury tents and leisure areas face south looking across what is known as Hydro bay, with a view of the Matusadona Range of mountains.

Day 8 & 9
-

Changa Safari Camp

The entire northern boundary of the park is created by the lakeshore itself which is characterized by "drowned forests" containing dead trees standing more than 50 years after the filling of the lake. Many of the animals rescued during "Operation Noah" when the lake was filling were released into Matusadona, which now holds strong populations of most mammals occurring in the Zambezi valley.

Lion, leopard, hyena and other predators occur in good numbers throughout the park. In fact, the Matusadona National Park once held the greatest concentration of lion in the world. Cheetah were reintroduced to the park in 1995 and they appear to be doing well. A good cross-section of plains game occur throughout the Park, and there is a small but important population of the endangered black rhinoceros, found mainly along the foot of the escarpment. One of the Matusadona's most compelling features is its luxuriant birdlife: over 240 species have been recorded in the park, and, as one would expect, the shoreline is inundated with waterfowl.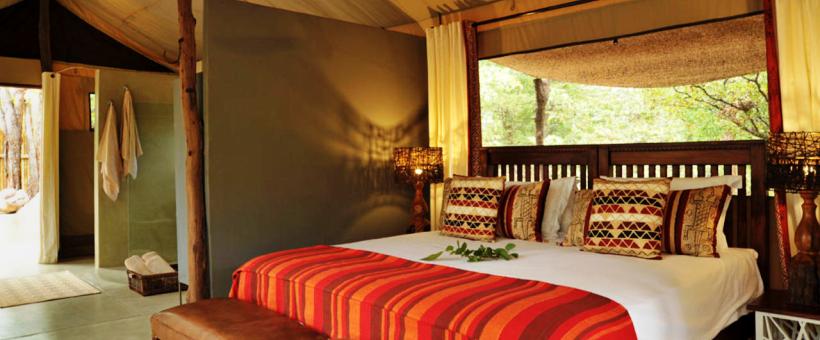 The tents are large East African style tents, all with stunning views overlooking the lake and the magnificent Matusadona Mountains in the background. Each tent has its own en suite bathroom, consisting of inside shower and under the stars outside shower and bath, double hand basins and flush toilet and dressing table and hot water at all times.
The central guest area consists of several thatched structures linked together by raised wooden walkways and decks, the separate buildings located in this area are as follows: lounge/library, dining room, bar, change room and swimming pool. Activities include driving, walking, fishing and boating - all with a professional guide. Or you can relax by the pool overlooking the lake and enjoy doing nothing. Overnight Changa Safari Camp - all inclusive of accommodation, meals, drinks, laundry, 3 game activities per day, tourism levy. Excluding National Parks fees.

Day10
-

Matusadona National Park

-

Harare

Today at a time confirmed with you, you will say farewell to Lake Kariba and the Matusadona National Park and fly* back to Harare. This flight is about 1hr 20mins.

Cost of the above safari: From USD$7,531 per person sharing.

This safari is based on 2 pax minimum travelling and air charters are quoted using a per seat costing. Single rooms supplements will apply in high season.
We do our utmost to waiver single supps where possible, so please try to give us enough time to negotiate.
Included:
Accommodation as stated above
Meals and drinks as stated above
Scheduled game activities at all camps
Air charter transfers including airport departure taxes where relevant
Camp/airport transfers
Laundry at Somalisa and Changa
Excluded:
National Parks fees at Changa Safari Camp = US$25 & if you fish, there will be an extra US$10 per day fishing permit
Premium brand spirit and wines at all camps
Extra game activities that are requested outside of the scheduled acitivity times
Fishing equipment at Goliath Safaris in Mana Pools. If you would like to fish, please bring own rod and tackle OR advise and we can hire equipment.
International flights & visa requirements
Medical & travel insurance cover
Tips & Gratuities
Any purchases made on a personal basis